Please visit ginnieandbethlo.com to learn about our other children's books.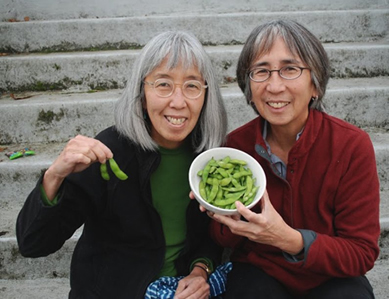 Beth Lo (left) and Ginnie Lo (right), Photo by Paul Nicholson.
:: Ginnie and Beth Lo are sisters and best friends. They are the creators of Mahjong All Day Long, which won the Marion Vannett Ridgway Award for an outstanding picture book debut. Like their first book, Auntie Yang's Great Soybean Picnic is inspired by the sisters' memories of growing up Chinese American in the Midwest.
Ginnie Lo is a retired computer science professor who taught at the University of Oregon for many years. She enjoys hiking, international folk dancing, and traveling—especially taking family trips to China. The mother of two grown children, she lives with her husband in Eugene, Oregon.
Beth Lo is an award-winning ceramic artist who has received fellowships from the National Endowment for the Arts and United States Artists. An art professor at the University of Montana, she also plays bass in two bands. She has one grown son, and she and her husband live in Missoula, Montana. Her Web site is bethlo.com.
:: This story of four Chinese American cousins who grew up "as close as four soybeans in a soybean pod" was inspired by our childhood experiences and our special memories of Auntie Yang's soybean picnics.
Auntie Yang was one of our mother's older sisters. In 1945, she and our mother bravely left their family behind in China to attend college overseas. Together they made the long and difficult journey to the United States, where they joined their husbands, who had already moved there to study at American universities. After earning their degrees, our parents moved to Indiana, while the Yangs settled in Illinois.
We will never forget the weekend Auntie Yang discovered soybeans near her house. What began as a small, spontaneous picnic for our two families grew into a large annual event. The soybean picnic quickly became an important Chicago area gathering for young Chinese immigrant families that had been displaced by the political upheaval in China during World War II. The picnic continued to grow over a span of forty years and was always one of the highlights of late summer.
Below: Photos of Ginnie and Beth Lo when they were children.